Roland FR3b digital accordion
£Sorry, this accordion has been sold
Roland FR3b digital accordion. Pre Owned.
This Roland FR3b 5 row button accordion is in excellent condition & has been well looked after by it's previous owner who purchased it new.
It comes with it's original Roland gigbag, owner's manual & quick start guide plus spare treble buttons. 3 months component part guarantee.
The FR3b can be played through headphones for silent practice, or through an amplifier/speaker (not supplied) for public performance. We can supply a suitable amplifier/speaker if required.
It has lots of great built in accordion sounds including musette & traditional, classical, casotto, & orchestral sounds such as strings, brass, woodwind etc. plus traditional & electronic orchestral bass & chord sounds for the left hand.
Lightweight – The Roland FR3b is the lightest of the 120 bass accordions at Just 7.5 KG ! (16.5 lb.)
You can easily swap between 'C' system &  'B' system configuration for the treble buttons & traditional 'Stradella' or 'free bass' for the left hand.
Full midi.
FREE UK mainland delivery !
If you would like to buy this pre owned Roland FR3b digital accordion or get more details, please call our Rochdale showroom on 01706 658283 or email us.
More Roland FR3 details:
FR-3b/-3sb
V-Accordion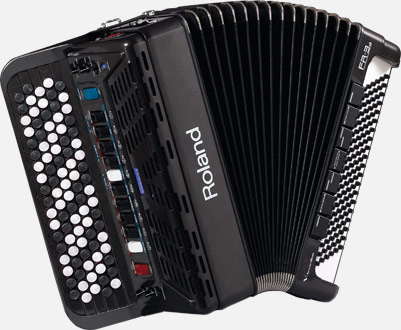 KEYBOARD & BELLOWSRight handPiano-type, 37-key with velocityLeft hand120 bass buttons with velocity
Standard, Free Bass mode, Orch. Bass, Orch. Chord, Orch. Free BassBellowsReal pneumatic detection of bellows pressure, high-resolution pressure sensorBellows Resistance RegulatorWheel with 4 positionsSOUND SOURCESound GeneratorMax polyphony: 64 voicesTones10 Accordion Sets, each one including:
10 Treble registers, 7 Bass registers, 7 Free Bass registers,
7 Orchestral Free Bass registers, 7 Orchestral Bass registers,
7 Orchestral Chord registers, 10 Orchestral soundsTreble reed footages4Bass reed footages5Chord reed footages3Free Bass footages2Orchestral SoundsTrombone, Trumpet, T Sax, A Sax, Clarinet, Harmonica, Violin, Flute, Jazz Org, Blues OrgOrchestral Bass SoundsAcoustic, Bowed, Fingered, Fretless, Picked, Tuba, Tuba MixOrchestral Free Bass SoundsTrombone, Clarinet, Oboe, Flute, Perc Organ, Ac Guitar, Ac PianoOrchestral Chord SoundsSt. Strings, Chorus Organ, Steel Guitar, St. Orch Brass, Choir, Harps+Strings, Guitar+OrganPBM (PHYSICAL BEHAVIOUR MODELING)NoisesStopping-reed growl, Closing valve noise, Left button noiseIndividual reed simulationHysteresis threshold, Expression curve, Pressure variant filter, Pressure variant pitch deviationSwitching Reed Sound WaveBy bellows acceleration, By note repetition speedMUSETTE TUNINGMicro tuning presets16: Off, Dry, Classic, F-Folk, American L/H, North Europe, German L/H, D-Folk L/H, Alpine, Italian L/H, French, ScottishEFFECTSReverb8 typesChorus8 types"Cassotto" and "Sordina" simulationYesPANEL CONTROLSKnob controlsVolume, Treble/Bass balance, Reverb, ChorusPANEL SWITCHESTreble Registers10 + Orchestra + SetBass Registers7MetronomeOn, OffOther switchesSordina Mellow/Bright, PowerOPERATION MODESOrchestra ModeSolo, Dual, High, LowOctaveDown, 0, Up for Treble and OrchestraOTHERSRated power output (FR-3s only)2 x 11W RMSSpeakers (FR-3s only)2 x 10cm speakers (Neodymium transducer magnets)Onboard connectorsHeadphones Jack (Stereo), Output Jack: L/Mono(Treble), R/Mono(Bass), MIDI connector: OUT/IN (adjustable via MIDI parameter)Power supplyExternal AC adapter (100V~240V universal)
Battery (optional): AA type battery (rechargeable)Supplied accessoriesExternal AC adapter, Owner's manual, Accordion cloth, Straps, Bass reference caps, Battery holder (pre-installed in compartment)Optional accessoriesGigbag (BAG-FR-3)SIZE AND WEIGHTWidth481 mm18-15/16 inchesDepth270 mm10-11/16 inchesHeight425 mm16-3/4 inchesWeight (FR-3)7.5 kg16 lbs. 9 oz.Weight (FR-3s)8.3 kg18 lbs. 4 oz.
Bass size: 120
Weight: 7.26 Kg. - 16.5 Lbs.